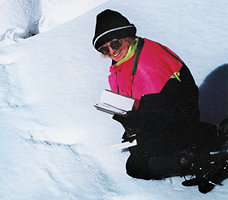 Wildlife researcher Judy Berg combed the Colorado River while tracking a once state-endangered species, the North American River Otter, in its natural habitat. Her experience resulted into a story that blends researched facts, personal photographs, interpretive illustrations, descriptive poems, Native American folklore, firsthand observations and narration—a blend that elevates this natural history to a class of its own.

The author's research led her on a 6-year pilgrimage following the tracks and scat, slides and tail-drags of this spirited animal on the Colorado River in the Rocky Mountains. From season to season, year to year, she documented a life's journey in Nature while connecting with native American spirituality.

With a curious mind and the gift of a medicine bag, Judy Berg journeys into the otter's world and returns with a venturous natural history story called "The Otter Spirit" to share with mankind.

Winner of NABE Pinnacle Book Achievement Award; Runner-Up of Green Book Festival Awards' Animal Category; received an Honorable Mention for Legacy Non-Fiction in the 2010 Eric Hoffer Awards. .
For more info, photos, and events visit www.otterspirit.org.