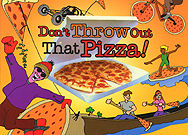 See larger image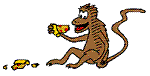 Click here for more information including sample pages and animations.

Don't Throw Out That Pizza!

Illustrated by Jesse Clark
ISBN-10: 0964572737
ISBN-13: 9780964572737
Paperback Book 128 pages 7.125 in x 5.125 in
What can you do with leftover pizza? Forget the crumbs. The rest can be used for just about anything! Illustrator Jesse Clark shows what you can do with the leftovers. From snowboards to swimfins, hubcaps to roulette wheels, ear muffs to bikinis--the cartoons illustrate new "recipes" for pizza.